null
What are the most common allergies in spring?
What are the most common allergies in spring?
Spring is a season the exudes joy, energy and, on top, announces that we're getting closer and closer to the summer. But it's also the time of year for allergies, which bring with them sneezing, eye irritation, difficulty breathing, skin rashes and other related symptoms.
As such, today we're going to talk about the most common allergies of spring. You're bound to know someone that suffers from some type of allergy at this time of year… and if you don't anyone that does, that person might be you. In reality, most allergies can be triggered at any time of year. However, some are particularly prevalent in spring. Below, we'll look at some of the most common: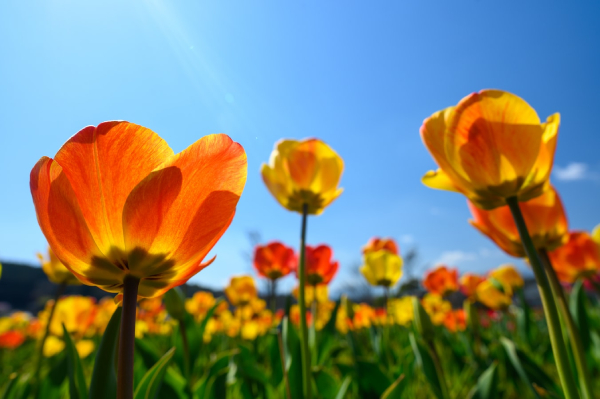 • Pollen: Undoubtedly the most common allergy at this time of year. While it's true that this type of allergy has been one of the most widespread for years, its prevalence has increased considerably due to changes in weather conditions and high levels of pollution.
Grasses, cupressaceae, amaranthaceae, plantago, olea or urticaceae are some of the most frequent types of pollen.
• Lipid Transfer Proteins (LTP). This type of food allergy can manifest itself at any time. Although it should be noted that its presence in foods typical of spring – such as the skin of peaches, apricots or nectarines, amongst others – results in an increase in cases at this time of the year.
• Other types of allergies that occur frequently in spring are those related to animals. The main cause of this is the shedding of hair, especially in dogs and cats. Shedding hair is frequent at different times throughout the year, but one of the biggest shedding periods takes place in spring, which is why the effects are usually greater.
• In recent months, several studies have been carried out to determine whether some skin rashes may be related to an allergic reaction to a drug used to treat coronavirus. However, there are different opinions on this matter and, in any case, it is always advisable to consult an allergist to determine the real causes of the reactions.

INTERESTING FACTS ABOUT ALLERGIES
Here are some interesting facts about allergies for the curious amongst you.
- Contrary to what you might think, spring allergies can begin to manifest themselves before April, May and June.
- Did you know that approximately 20% of the population suffers from an allergy in Spain? According to data presented by the Spanish Society of Allergology and Clinical Immunology (SEAIC), allergies affect more than 8 million Spaniards. The main protagonist is grasses, which cause allergies in around 7 million people in Spain. This is followed by the olive tree, the plane tree, the arizonica or the parietaria.
- In terms of nutrition, experts recommend drinking plenty of water and boosting our immune system with fresh foods rich in vitamin C to reduce the impact of pollen allergies.
- Due to the current situation, it's important to highlight, according to a recent study presented at the 32nd congress of the Spanish Society of Allergology and Clinical Immunology (SEAIC), that the allergic and asthmatic population is not necessarily more prone to be infected by Covid-19. This is relevant as it is estimated that around 300 million people suffer from asthma worldwide.
- As we engage in outdoor activities or spend more time outdoors, we're more prone to suffering from allergies.
Nowadays, the usual treatments for allergies are medications and vaccines. But don't forget that protective measures can also play an important role in preventing allergies.
Of course, it's essential that you see a doctor if you develop any type of allergy. There is no one better than a professional to advise you or make recommendations that can help you get through this period.